LéO Africa Institute and the Konrad Adenauer Stiftung (KAS) are pleased to announce the latest cohort of 16 emerging civic and public sector champions who will be joining the Huduma Fellowship. This Fellowship provides training in thought leadership, public affairs management, and policy making.
LéO Africa Institute and the Konrad Adenauer Stiftung (KAS) would like to thank all applicants who applied to join the Class of 2023. The overwhelming number of impressive applications received is testament to the growing interest in the programme and the impact it is having on young and emerging leaders within the Ugandan public sector.
Meet the Huduma Fellowship Class of 2023
Allan Abaho, Operations Officer, Microfinance Support Centre
Abirahmi Kananathan, Technical Assistant, Ministry of Health – Uganda
Alex Gilbert Naijuka-Njuneki, Legal Services and Board Affairs, Uganda Revenue Authority
Allan Sentamu, Planner, Mpigi District Local Government
Brenda Nakalema, Writer, Copywriter, and Poet
Edgar Nicholas Kebba, Assistant Building Control Officer and Building Inspector, Kampala City Council Authority
Ian Lumonya Oguli, Real Estate Sales Officer, National Social Security Fund
Juliana Nayebare, Risk Management Officer, Uganda National Bureau of Standards
Edward Kakungulu, Surgeon, Uganda Cancer Institute & East Africa Oncology Centre of Excellence
Christian Karamagi, Innovation or Platform Business Lead, Stanbic Bank Uganda
Maya Denis Makika, Strategic Planner, National Planning Authority
Maurice Muhumuza, Committee Clerk, Parliament of Uganda
Mwebaze Johnson, Officer Domestic Taxes, Uganda Revenue Authority
Najib Kasole, Legal Officer, Insurance Regulatory Authority of Uganda
Owilla Abiro Mercy, Grants and Partnership Lead, African Institute for Investigative Journalism
Tabaro Carolyne Ahereza, State Attorney, Office of the Director of Public Prosecutions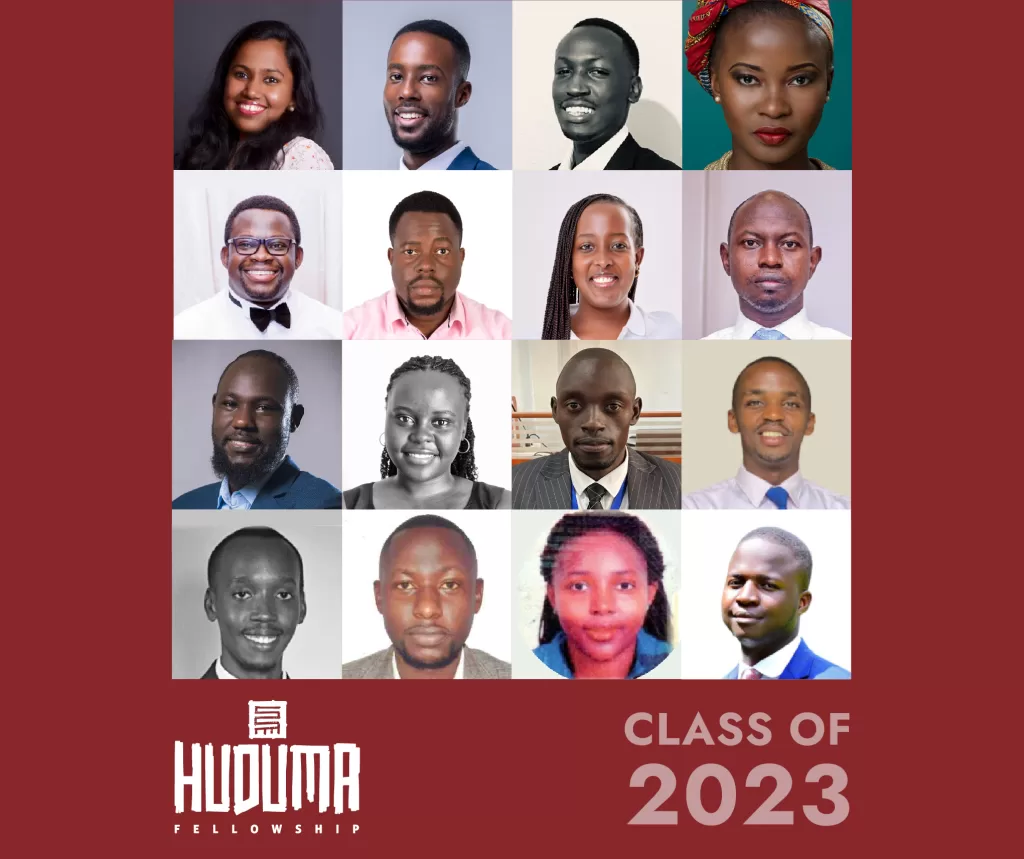 About Huduma
The Huduma Fellowship program is designed to train a new generation of public sector leaders who appreciate the importance of public service in building a good society. The fellowship is based on LéO Africa Institute's guiding principles of Clarity (about the leadership challenge in Africa today), Empathy (towards humanity and the environment), Knowledge (widening our understanding of the state of Africa and the world today), and Volunteerism/Servant leadership (developing a spirit of selfless service to the community).
The Huduma Fellowship provides fellows with the opportunity to exercise servant leadership in the public sector and further enhances their understanding of how future public sector leaders can contribute to improving the quality of service delivery. The fellowship also nurtures a new cadre of politically conscious actors in the public space in Uganda and offers intense mentorship opportunities tailored to each fellow's career track.